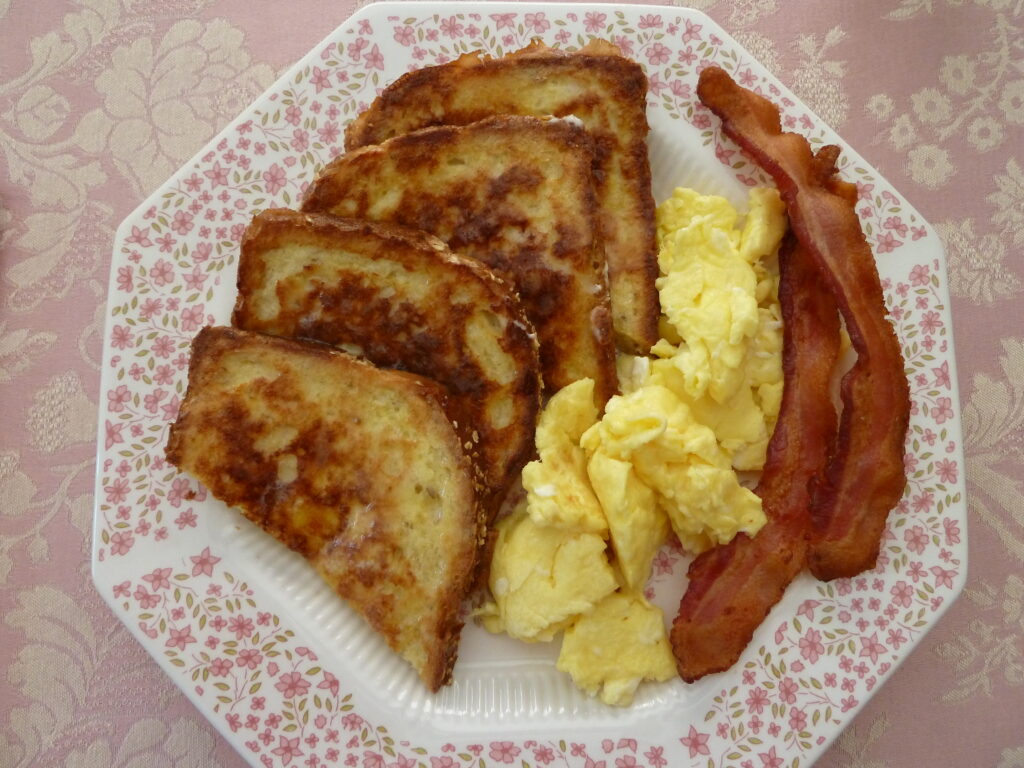 "To me, French Toast is just French Toast, but my daughter, April, says I make the best, so I had to figure out the amounts for her." – Calla Ferre
"My Mom seems to be the only person who knows how to make good French Toast! Any restaurant I've ever tried has had very dry French Toast. Mom's is light, soft and moist. It is one of the dishes I most request when I go home for a weekend visit. Serve with extra butter and maple syrup or Grandma's Apricot Syrup." – April Ferre
Mom's French Toast
Ingredients
4

Slices

Bread

1/4

Cup

Half & Half or Milk

4

Eggs

Butter
Instructions
Beat eggs with half and half until light. Pour mixture into shallow pan. Place slices of bread in pan and soak up as much of the egg mixture as possible, turning bread to accomplish this.

Rub fry pan with butter, but do not preheat or egg mixture will not cook in the center properly. Place bread in fry pan and drizzle any remaining egg batter on the tops of the bread. Cook over medium high heat (approximately 350 degrees) until golden on both sides, flipping once.

Variations: Add cinnamon and sugar mixture, orange zest or lemon zest to egg batter. Or other spices.

Serve with: Maple Syrup, Apricot Syrup, jams or marmalade. Stuff with: yogurt, cream cheese, fresh fruits. Top with whipped cream.
Notes
The sky's the limit. Use your imagination for different tasty breakfast concoctions.
Original Recipe – Calla Ferre
Related Recipes: