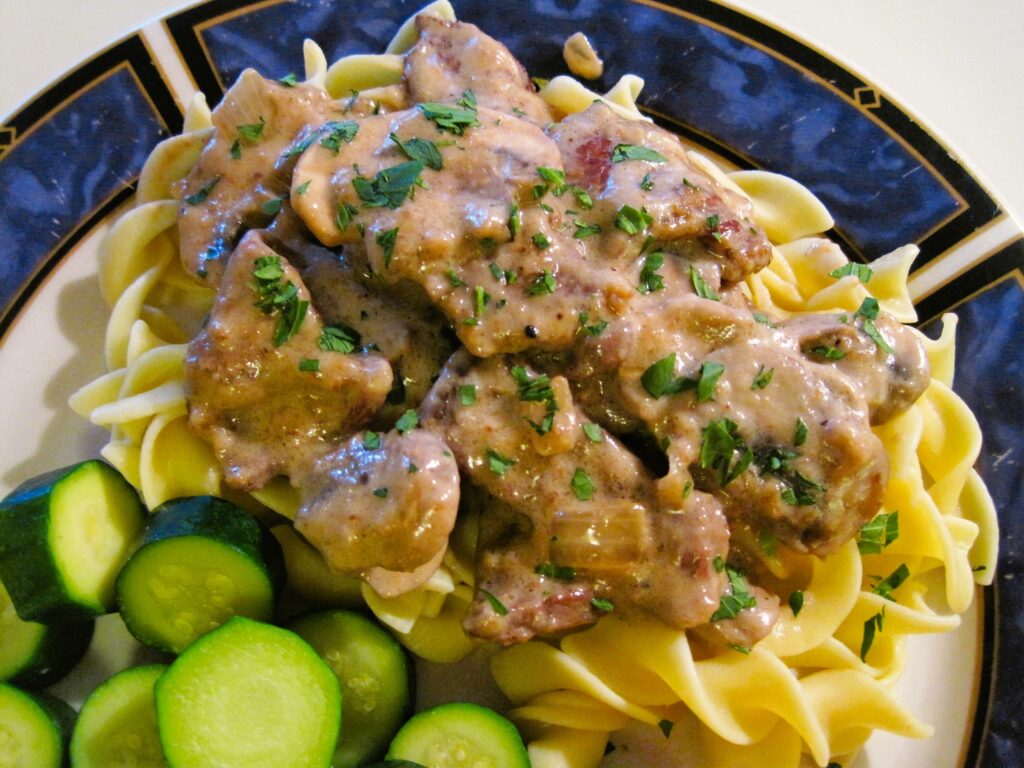 "The best beef stroganoff, in my opinion. It's very rich, very creamy and great during the cold winter months." – April Ferre
"Cooking for Compliments is a very good cookbook, so we tried this recipe and it has become one of our favorites. Knudsen's sour cream is the best, and so are their recipes." – Calla Ferre
Knudsen's Beef Stroganoff
Ingredients
1/4

Cup

Butter

1/2

Pound

Fresh Mushrooms

Sliced

3/4

Cup

Onions

Finely Chopped

1/4

Cup

Flour

3/4

Teaspoon

Salt

1 1/2

Pounds

Beef Sirloin Tip

Cut In Strips

Cooking Oil

1 1/3

Cup

Beef Bouillon

1

Teaspoon

Worcestershire Sauce

3

Tablespoons

Tomato Paste

Optional

Water

If Necessary

1

Cup

Sour Cream

Hot Cooked Noodles

Chopped Fresh Parsley

For Garnish
Instructions
Melt butter in fry pan. Wash, drain and slice mushrooms. Sauté mushrooms until golden. Using slotted spoon remove to plate. Sauté onion until golden. Remove to plate with a slotted spoon.

Combine flour and salt in a paper bag. Add beef strips and shake to dredge. Brown beef strips, a few at a time, in butter remaining in frying pan. Add oil as necessary. Remove to plate as soon as browned one each side. Pour off excess oil.

Return beef and onions to fry pan. Add bouillon, Worcestershire sauce, and tomato paste (if desired). Blend. Cover and simmer gently until meat is tender, 30 to 45 minutes. Stir occasionally to prevent sticking. Add water, if necessary, to make 1 cup sauce.

Before serving, add mushrooms to beef-sauce mixture and remove from heat. Empty sour cream into a medium bowl. Gradually add beef-sauce mixture, stirring constantly. Return to fry pan and heat gently to serving temperature.

Serve over hot cooked noodles. Garnish with parsley. Makes 4 to 6 servings.
Variations:
Original Beef Stroganoff: Omit mushrooms and tomato paste. Use beef tenderloin and cook just until sauce thickens. Add 1/2 Teaspoon mustard, if desired.

Hamburger Stroganoff: Substitute about 1 1/2 Pounds Ground Beef for sirloin. Reduce flour to 3 Tablespoons and add to hamburger after draining off excess fat. Add bouillon and cook just until thickened.

Quick Turkey Stroganoff: Omit beef. Add 2 Tablespoons Sherry with bouillon and heat to boiling. Add 2 Cups chunked leftover turkey with sour cream.

Calorie-Conscious Stroganoff: Stir 2 Tablespoons Flour into beef after draining excess oil. Substitute 1 Cup Buttermilk or 1 Cup Plain Yogurt for sour cream. Trims 75 calories from each serving. Yogurt version is tangy.
Notes
If you make this ahead of time and freeze it, leave out the sour cream.
Recipe – Calla Ferre – From Knudsen's Cooking For Compliments, 1977