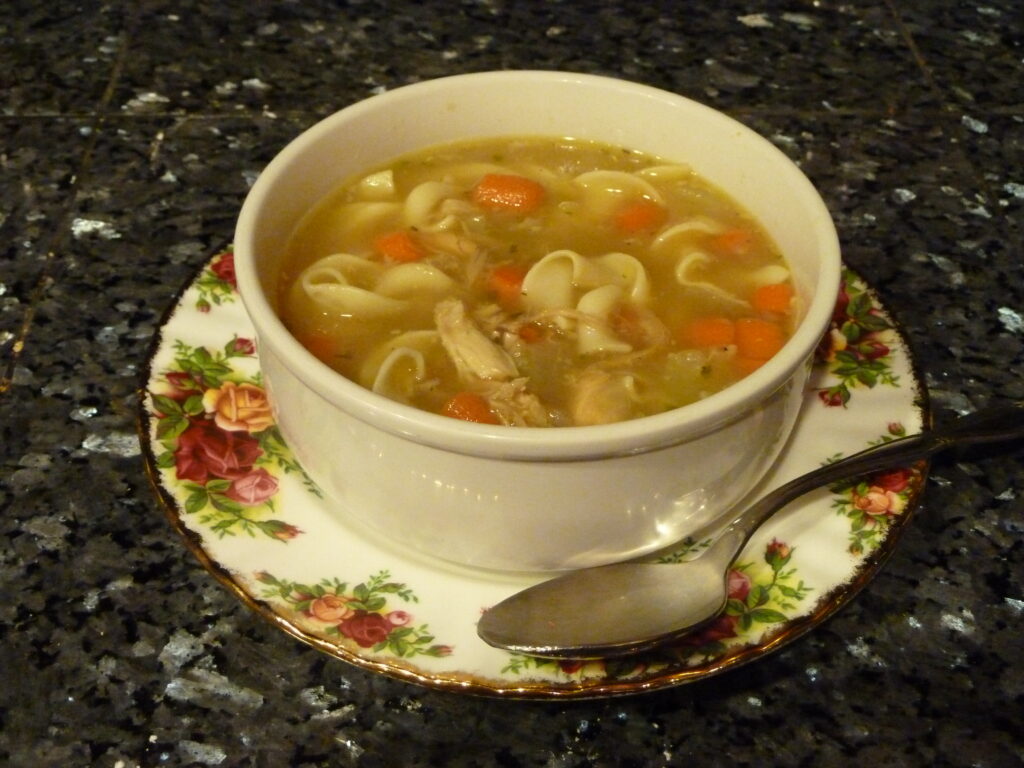 "When you are sick, you need chicken noodle soup, and now science says there's really something to it." – Calla Ferre
"When I was suffering from an elusive gastrointestinal problem, my Mom came up to Davis to take care of me. For 2 1/2 weeks, the only thing besides Jamba Juice that I could eat was Mom's Chicken Noodle Soup." – April Ferre
Homemade Chicken Noodle Soup
Ingredients
1/2

Chicken

Carrots

Celery

1/2

Onion

Cooked Noodles

Salt

To Taste

Coarsely Ground Pepper

To Taste

Parsley
Instructions
Place chicken in pot and cover with water (1-inch over chicken). On medium heat, cook approximately 25 minutes. Take scum off. Take chicken out and rinse with cold water. Cut chicken into bite-sized pieces.

Add carrot, celery and onion to broth. Cook until almost tender. Add chicken. When vegetables are tender, add cooked noodles, salt, pepper and parsley.

Note: You may use 1 chicken cube for added chicken flavor, but if you do, do not add salt.

Turkey Noodle Soup: A great way to use your leftover turkey from Thanksgiving is to make soup. Follow the same directions using the carcass, neck, and any other bones. Pick excess meat off bones and supplement with Thanksgiving leftovers. Note: Turkey stock will be a little more cloudy than chicken stock.
1966 Recipe – Jean Hansen