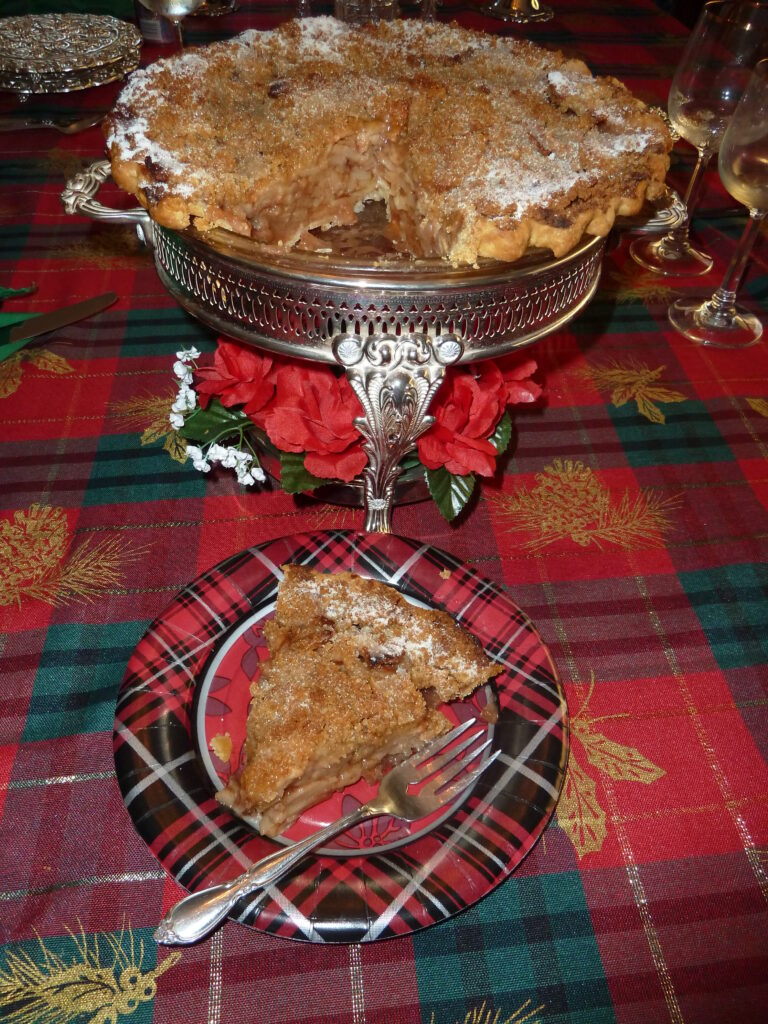 "Make this as a two crust pie, or make into a French Apple Pie using the Crumb Topping, which originated from the French Rhubarb Pie. In our household, we prefer 'French' versions of pie to the standard two crust pie. This French Apple Pie has been a hit wherever I've taken it." – Calla Ferre
"Women in my family have learned to make Apple Pie from their mothers generation after generation. While Grandma's Pepper Nuts may be the oldest recipe in this cookbook that we can definitively date, in reality this is probably our oldest 'recipe.'" – April Ferre
Homemade Apple Pie
Ingredients
4

To 4 1/2 Pounds Apples (Granny Smith Or Pippin)

7/8

Cup

Sugar

1/2

Teaspoon

Or More Cinnamon

1

Tablespoon

Flour

2

Cups

Flour

Sifted

1/8

Teaspoon

Salt

2/3

Cup

+ 1 Tablespoon Shortening

4

Tablespoons

Water

Cold
Instructions
Combine 2 cups flour and salt. With pastry blender, cut in shortening. Add water, 1 tablespoon at a time. Mix after each addition until particles resemble the size of small peas. Gather into a ball. Divide in half. Roll out or place in refrigerator until needed.

Fit bottom crust into pie plate. Slice apples evenly. Place layer of apples in pie plate. Form layer of cinnamon-sugar-flour mixture, followed by more apples. Continue until all ingredients are used. Dot with butter. Cover with second crust. Crimp edges and vent. Bake at 375 degrees until apples are tender, about 1 hour.

April's Alternate Method: Combine apples, cinnamon and sugar (also nutmeg and cloves, if desired). Allow to soak while preparing pie crust. Drain juice from apples and mix in flour as needed. Fill pie plate evenly with apples; dot with butter. Continue pie as directed above.
Recipe prior to the 1940's – Calla Stacker
Related Recipes: