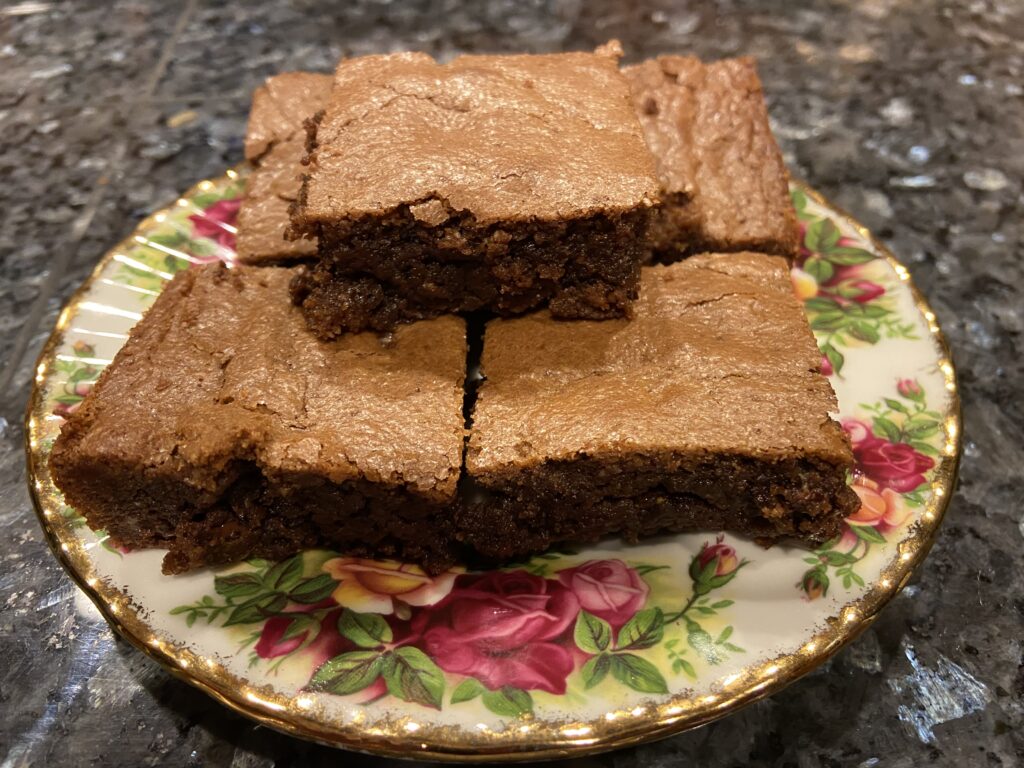 "It's nice to have a few good gluten free recipes for something sweet that do not take a variety of flours to make. Nice also to have one that does not need a special gum to help hold the end product together. " – Calla Ferre
Brownies (Gluten-Free)
Ingredients
1/2

Cup

Butter

1/2

Cup

Semi-Sweet Chocolate Chips

1/4

Cup

Sugar

1/4

Cup

Brown Sugar

1 1/2

Teaspoon

Vanilla

2

Eggs

Lightly Beaten

1 1/2

Cup

Almond Flour

1/2

Teaspoon

Salt

2/3

Cup

Chocolate Chips

1/2

Cup

Chopped Nuts

Optional
Instructions
Preheat oven to 350 degrees. Spray 8-inch square pan with non stick cooking spray.

Place sugars and vanilla in medium to large bowl; set aside.

Melt butter in 2 cup glass measuring cup or similar sized bowl for approximately 35 seconds. (See Note) Add the first 1/2 cup chocolate chips and cook for an additional 45 seconds. Stir until blended. (Alternative to microwave: melt butter and chocolate chips in medium saucepan over very low heat.)

Add melted butter and chocolate chips to sugar mixture; set aside and let cool slightly. Add eggs and stir well to incorporate.

Stir in almond flour and salt and mix well. Stir in remaining 2/3 cup chocolate chips. If using nuts, stir these in as well.

Spread evenly in prepared pan. Bake for 30 to 35 minutes or until toothpick inserted into the center comes out clean. Do not over cook or brownies will come out dry. Cool completely before cutting into squares.
Notes
Time for melting butter and chocolate chips is approximate and can vary with individual microwave ovens. Use your judgment as to how to adjust times to suit your microwave.
2020 Adapted Recipe – Calla Ferre