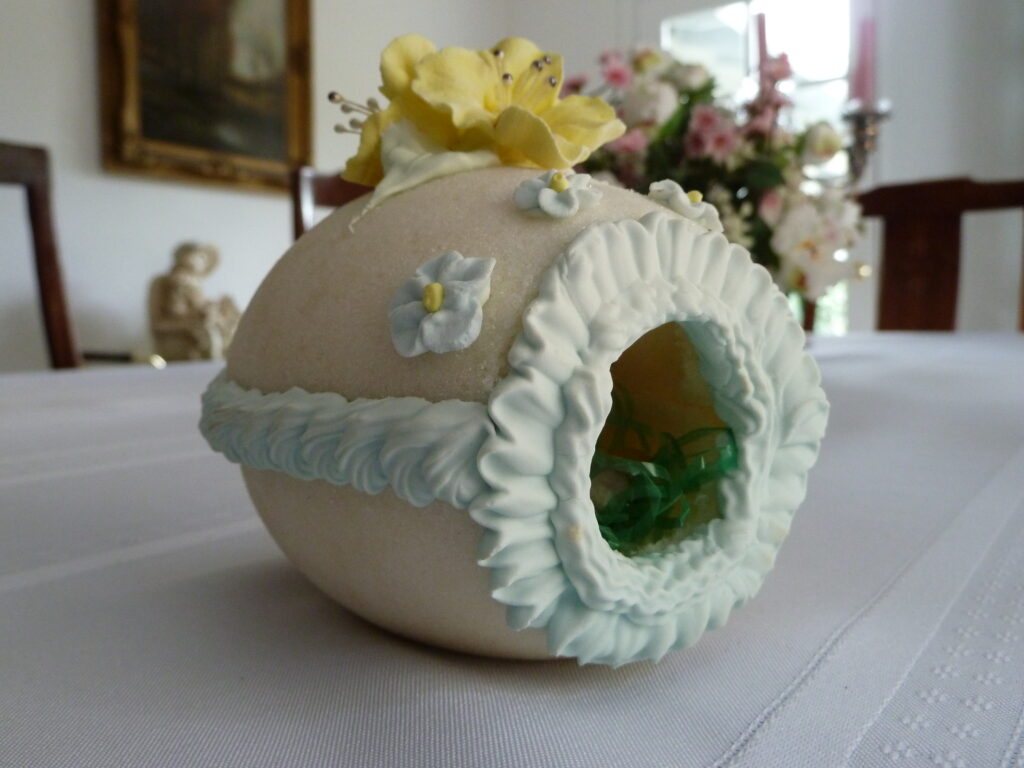 "For those that are creative at heart, these make nice gifts. But don't forget to make one for yourself! Some piping experience necessary." – Calla Ferre
"My Mom made these for my brother and I for Easter one year. It's best if you can keep these in a covered cabinet as they are difficult to remove dust from." – April Ferre
Easter Sugar Eggs
Ingredients
6

Cups

Granulated Sugar

1

Egg White

Cornstarch

Royal Icing
Instructions
Mix sugar and egg white in large bowl until the egg white is worked evenly throughout sugar. Keep wet towel over bowl when not in use.

Dust egg mold with cornstarch. The molds may be purchased at any drug store or variety store.

Place sugar mixture in egg mold, packing firmly with fingertips.

Turn out on table or board or any flat surface for drying. Do not touch until dry, at least 5 hours. For best results, let stand overnight or about 12 hours.

When the shell is hard, scoop out the soft inside portion. This may be used for the next mold.

After the shell has hardened, cut a small half moon in pointed end of each half egg.

Now begin to decorate the inside of the egg using Easter candies, artificial grass, small chickens or bunnies, or tiny artificial flowers. Use your imagination to create miniature Easter scenes. Glue the decorations to the base of the shell. Some candies may be left loose for little fingers to pluck out.

After decorating on the inside has been completed, put on top half of the egg. Pipe royal icing around the egg to join two halves. They need not be glued together because the icing is the adhesive agent.

Decorate the egg with the icing, creating your own designs. To make the icing flowers and leaves use a parchment paper cone with number 14 or 16 cake decorating tips.
Recipe – Calla Ferre
Related Recipes: