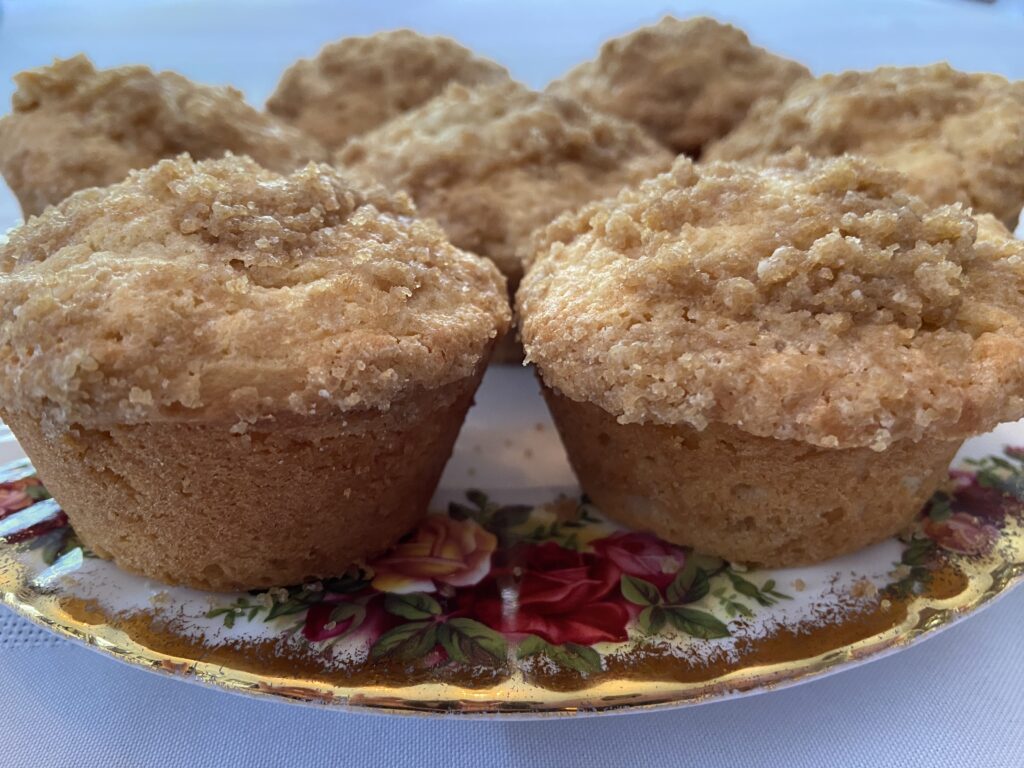 "These are like little individual coffee cakes. They are called double streusel not because you use two streusels, but because not only is the streusel on top, but it is also incorporated into the muffin itself! They are so good with that morning cup of coffee or cup of tea in the afternoon. Yum!" – Calla Ferre
Double Streusel Muffins (Gluten-Free)
Ingredients
For the Streusel:
1/2

Cup

Light Brown Sugar

1/2

Cup

Calla's All-Purpose Gluten-Free Flour Blend

1/4

Teaspoon

Xanthan Gum

1/8

Teaspoon

Salt

1/4

Cup

Butter-Flavored Crisco Shortening
For the Muffin Batter:
1 3/4

Cup

Calla's All-Purpose Gluten-Free Flour Blend

1/4

Cup

Cornstarch

1/2

Teaspoon

Xanthan Gum

1

Teaspoon

Baking Powder

1/4

Teaspoon

Baking Soda

1/2

Teaspoon

Salt

1/4

Teaspoon

Cinnamon

3/4

Cup

Sugar

6

Tablespoons

Butter

Melted & Cooled to Room Temperature

1

Teaspoon

Vanilla

2

Eggs

Lightly Beaten, Room Temperature

1/2

Cup

Milk

Room Temperature

1/2

Cup

Sour Cream

Room Temperature
Instructions
Preheat oven to 350 degrees. Grease or line a standard 12 cup muffin tin with cupcake liners.
Make the Streusel:
Combine the dry ingredients together and mix well with a wire whisk.

Cut in shortening until coarse crumbs form. Chill.
Make the Batter:
While the streusel is chilling, in medium bowl combine the first 7 batter ingredients. Use a whisk to mix well.

In separate bowl, combine milk and sour cream; mix until smooth.

In the bowl of a stand mixer, cream the butter and sugar. Beat until light and fluffy. Slowly add the vanilla and eggs. Beat until smooth.

Add dry ingredients alternately with wet ingredients to the creamed butter and sugar, using 1/3 of each with each addition. Do not overwork batter.

Gently fold in 1/2 of the streusel crumbs, try to evenly incorporate the crumbs without breaking them up.
Cook the Muffins:
Fill muffin tins. Use the remaining streusel crumbs to top the muffins. If necessary lightly press crumbs into place to adhere.

Bake in preheated oven until muffin top is slightly golden and bounces back when slightly pressed and toothpick inserted comes out clean, or only moist crumbs adhere; approximately 22 minutes.

Remove from oven and cool for 5 minutes before removing from muffin tins. Makes 12 muffins.
Notes
These muffins are best when enjoyed warm. Left over muffins reheat well with just a few seconds in the microwave and return to fresh baked goodness. For best results do not refrigerate or leave on the counter for more than three days. These muffins freeze well.
2023 Adapted Recipe – Calla Ferre