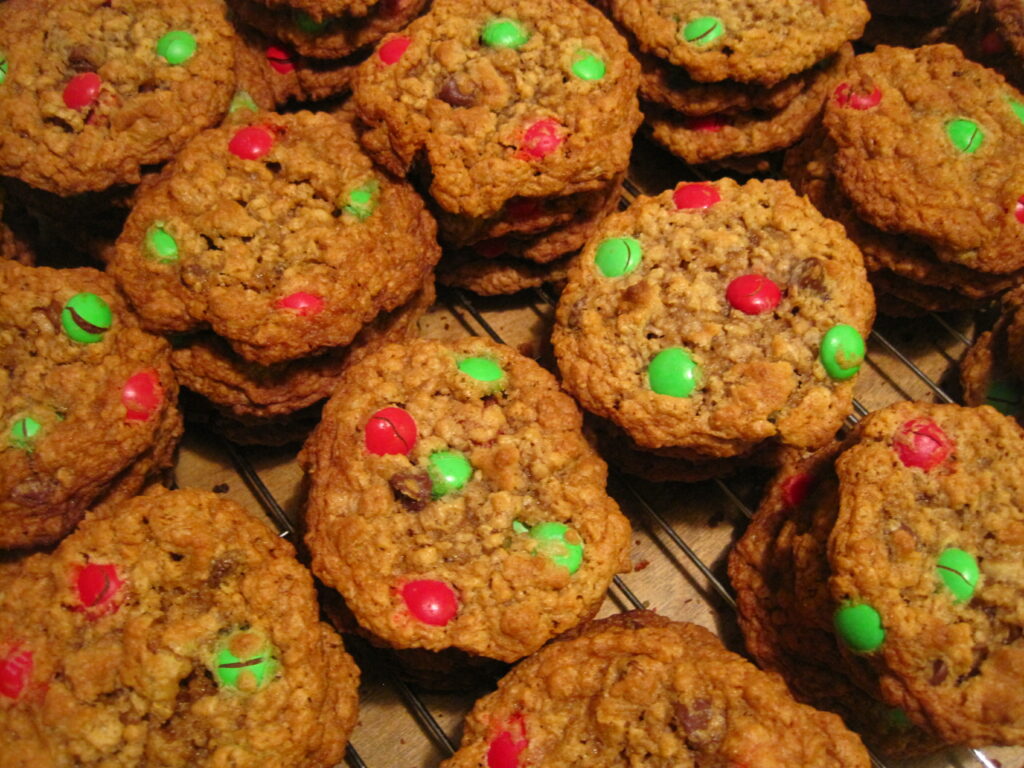 "This recipe was a request of my son, David. His Grandma Dorothy in Washington would send them down to him in Santa Cruz for a special treat." – Calla Ferre
"This recipe was perfect for my labmate's annual Christmas cookie swap, where I needed to bring 8 dozen cookies. I was determined to make this recipe as one entire batch, and it was quite a feat doing so. I stopped baking at 12 dozen cookies and froze back the rest of the dough for later. I estimate there are another 6 dozen cookies left to bake. Keep this in mind when you go to make these cookies. The recipe can easily be halved or quartered if need be. Also, this is a great recipe for those with gluten allergies, amazingly there is no flour, only oatmeal!." – April Ferre
Dorothy Hurst's Monster Cookies
Ingredients
1

Pound

(2 Cups) Margarine

2

Pounds

Brown Sugar

4

Cups

White Sugar

1

Tablespoon

Karo Syrup

1

Tablespoon

Vanilla

8

Teaspoons

Baking Soda

1

Dozen Eggs

3

Pounds

Peanut Butter

1

12-Ounce

Package Chocolate Chips

2

12-Ounce

Packages M&Ms

1

Pound

Walnuts

Chopped

18

Cups

Quick Oatmeal
Instructions
Cream margarine, brown sugar and white sugar. Add Karo syrup, vanilla, baking soda and eggs; mix well. Beat in peanut butter. Pour over chocolate chips, M&Ms, walnuts and oatmeal. Mix together (I use my hand) .

Bake at 350 degrees for 10 to 12 minutes, depending on size of cookies. Let set 5 minutes before removing from cookie sheet to wire rack to finish cooling.

Makes such a large batch that I store some dough in large covered tupperware container and bake some a few days later. Can be frozen.
Recipe – Dorothy Hurst MaCauley