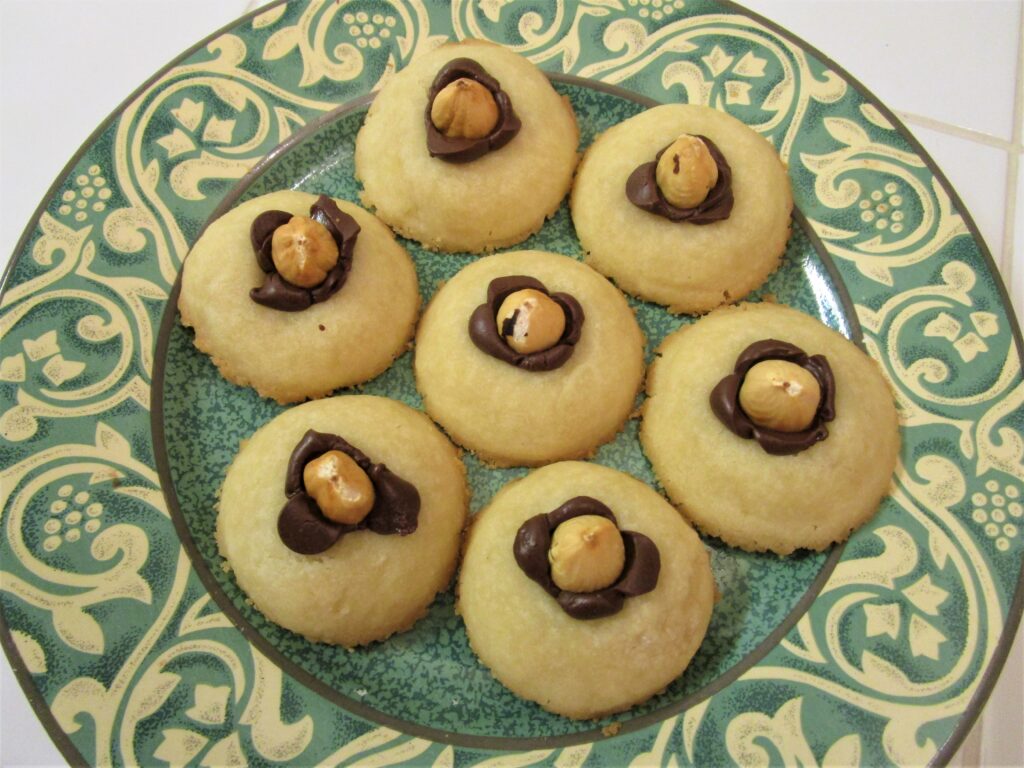 "I can remember sitting and cracking the filberts while Mom was making these cookies. Now you can buy them already shelled, but that wasn't always so. These were one of the many types of cookies Mom would make during Christmas time to give to friends and take to parties." – Calla Ferre
Chocolate Filbert Thumbprints
Ingredients
1/2

Cup

Butter or Margarine

1/2

Cup

Confectioner's Sugar

Sifted

1

Teaspoon

Vanilla

1

Cup

Flour

Sifted

Semi-Sweet Chocolate Chips

Shelled Filberts, Whole or Cut In Half, Toasted
Instructions
Cream butter, confectioner's sugar and vanilla. Blend in flour with beater or spoon; chill.

Using 2 teaspoons of the dough for each cookie, make into small balls (approximately 1-inch). Place on ungreased cookie sheet and make an indentation in the center of each with a finger. Indentation will widen during baking.

Bake in moderate oven (350 degrees) until straw colored around the edges, about 10 to 15 minutes.

Remove from oven, working quickly while cookies are still very hot and on pan, place semi-sweet chocolate chips and filberts in the indentations. Remove to racks to cool. Chocolate chips will melt from heat of cookies and keep filberts in place. Makes 24 cookies.
Recipe – Jean Hansen