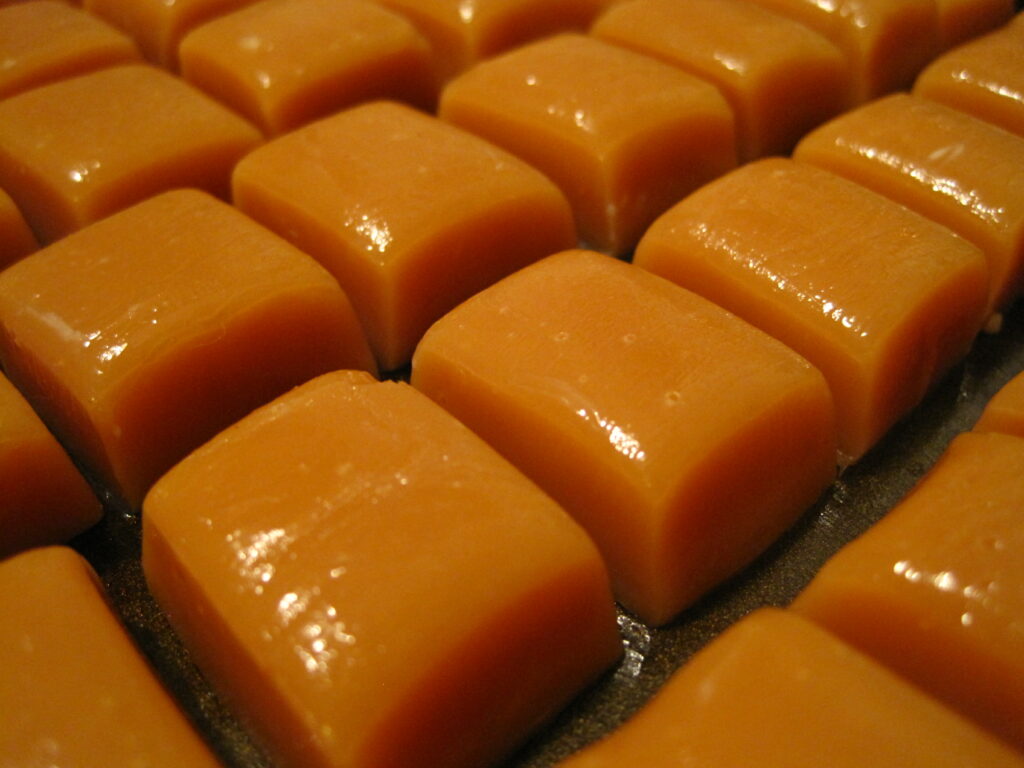 "A little piece of heaven. Homemade caramels are not even in the same category as those hard store-bought squares. I haven't gotten much into the variations because the basic caramel is so good. I don't make them that often, because I will eat them all!" – Calla Ferre
"These are truly amazing. You haven't had a real caramel until you've tried these. I sometimes make them as a part of my annual Christmas candy making.
They are a bit of work to make, and you must not try to cook them faster by increasing the heat, as the caramel will come out too hard. But if your caramels do come out a little too hard, a few seconds in the microwave will soften them up." – April Ferre
Calla's Blue Ribbon Caramels
Ingredients
2

Cups

Sugar

1

Cup

Corn Syrup

2

Cups

Heavy Cream

Lukewarm

1/2

Cup

Butter

Not Margarine

1

Teaspoon

Vanilla
Instructions
Lightly oil the inside of a 5-quart saucepan. Combine sugar and corn syrup in pan; cook over low heat, stirring constantly, until sugar is dissolved and mixture comes to a boil. Clip on candy thermometer; cook stirring occasionally, until thermometer reaches soft ball stage.

Add warm cream very slowly so that mixture never stops boiling. Cook again until thermometer reaches soft ball stage.

Add butter, bit by bit, so mixture never stops boiling. Stir a little to blend; let mixture cook to soft ball stage again. Remove from heat; add vanilla. Pour in a steady stream into lightly oiled 9x9x2-inch pan. Do not scrape pan.

Mark in 1-inch squares, but do not cut all the way through. After caramel has cooled completely, it can be turned out onto cutting board and cut into marked squares. Wrap individual pieces in plastic wrap or waxed paper; store in airtight container. Makes 81 1-inch pieces.
Variations:
Butterscotch Caramels: Substitute 1 cup light brown sugar and 1 cup granulated sugar for 2 cups sugar in basic recipe.

Caramel-Nut-Fudge Roll: Prepare 1 recipe Traditional Chocolate Fudge. Shape into long roll about 1 to 1 1/2 inch in diameter. Pour caramel into shallow pan. When cool enough to handle, turn out of pan onto cutting board. Cut strip large enough to wrap around fudge. Roll caramel in coarsely chopped nuts or chocolate sprinkles. Cut into slices when completely cool.

Caramel-Nut Roll: Use either vanilla or chocolate caramel. Allow to cool slightly. Shape into long roll about 1 1/2- to 2-inches in diameter; roll in coarsely chopped nuts. When completely cool, cut into slices.

Chocolate Caramels: Add 2 squares (2 ounces) bitter chocolate to sugar and corn syrup.

Coffee Caramels: Add 1 teaspoon instant coffee crystals to sugar and corn syrup.

Nut Caramels: Add 1 cup chopped nuts to syrup with the butter.
1984 Recipe – Calla Ferre – From The Encyclopedia of Creative Cooking, 1980