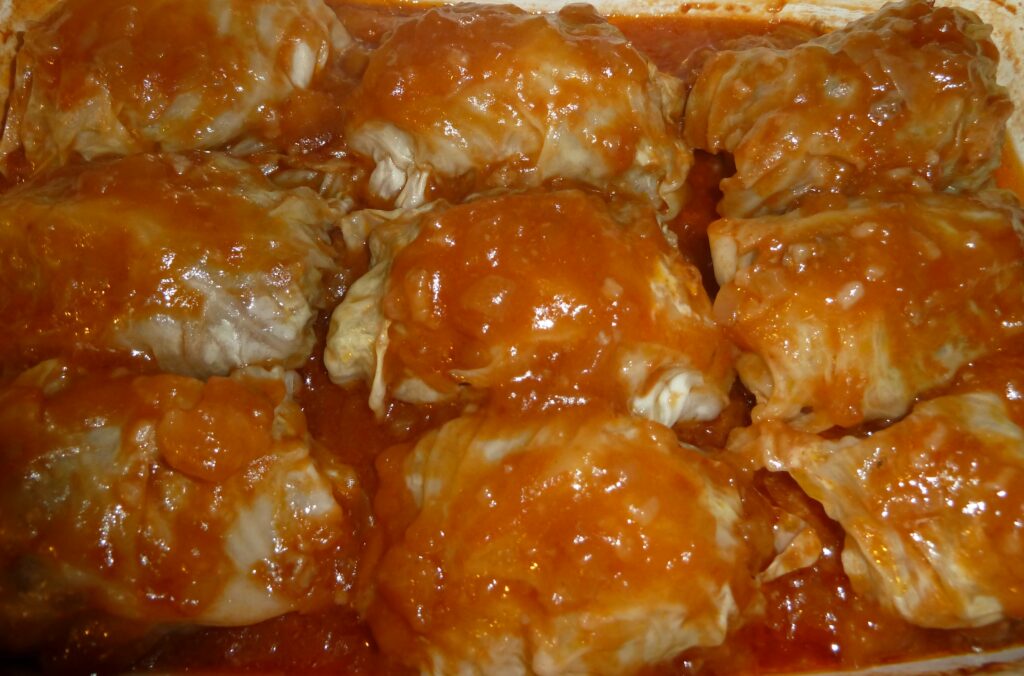 "When I was growing up, one of us kids decided we didn't like cabbage so Mom would make a few of the meatball type and cook them in the pan with the cabbage rolls so that everyone was happy! These are nice to have on hand in the freezer for last minute nights when you need something good to eat and fast. This is definitely a family recipe, my Mom said this is how her Mom always made them. The mushrooms are a recent edition, on the suggestion of my husband." – Calla Ferre
Cabbage Rolls (or Stuffed Bell Peppers)
Ingredients
1

Head Cabbage

2 1/2

Pounds

Hamburger

(80% Lean)

3/4 to 1

Cup

Cooked Rice

3/4

Cup

Onion

Chopped

1 1/2

Teaspoon

Salt

2

Tablespoons

Worcestershire Sauce

8 to 16

Ounces

Mushrooms

Sautéed & Coarsely Chopped, Optional

2

10.75-Ounce

Cans Condensed Tomato Soup

2/3

Cup

Onion

Chopped
Instructions
Prepare Cabbage:
Core the cabbage, leaving it whole. You will need to soften and separate the cabbage leaves, being careful not to tear them. Choose the method that works best for you. There are several choices:

Separate leaves and boil them. With this method it can be easy to tear the leaves when separating.

Place the whole cabbage in a pot of boiling water until the leaves separate easily. Drain and cool. DO NOT over cook or the leaves will get too soft and fall apart and you will have to start over with a new head of cabbage.

Place the whole cabbage in the microwave, cook for a few minutes and then separate the leaves as they soften. Continue to cook until each leaf is loosened and pulled away. If you need to soften individual leaves a little more, place the leaves in the microwave, cooking until you get the texture you are looking for.
Prepare Filling:
Combine hamburger, rice, 3/4 cup chopped onion, salt, Worcestershire sauce, and mushrooms. Mix until well blended. Do not use too lean of hamburger, or your cabbage rolls will come out dry. 80% lean is recommended.

Take a cabbage leaf that has cooled and remove some of the heavy vein. This will allow you to fold the cabbage around the filling easier. Shape about 1/3 cup filling into an oval. Roll filling in a cabbage leaf and place in baking dish. Continue to roll until all the filling has been used up.
Prepare Sauce:
Sauté 2/3 cup chopped onions in a little butter. Add two cans of condensed tomato soup. Do not add water; leave it condensed. Pour sauce evenly over the cabbage rolls. Do not worry if there does not seem to be enough sauce; it dilutes and spreads out while cooking.

Cover and cook at 350 degrees for approximately 1 1/2 hours. Uncover during the last 10 minutes of cooking to help with better color and texture, but watch out not to burn the tops of the cabbage rolls.
Additional Options:
Stuffed Bell Peppers: Substitute cored and halved bell peppers for the cabbage. Place filling in bell pepper cups and pour over sauce. Continue to bake as directed.

Meatballs in Tomato Sauce: Form filling into balls, pour sauce over, and continue to bake as directed.
Notes
This is a large recipe and generally takes one 9×13 inch pan and one 8×8 inch pan.
These freeze beautifully after cooking and seem to only get better with time as the flavors blend and mellow. Frozen cabbage rolls may be reheated directly, without thawing.
If you plan on freezing these, omit the mushrooms.  The mushrooms will toughen up if you freeze them.
Early 1900's Recipe – Calla Stacker