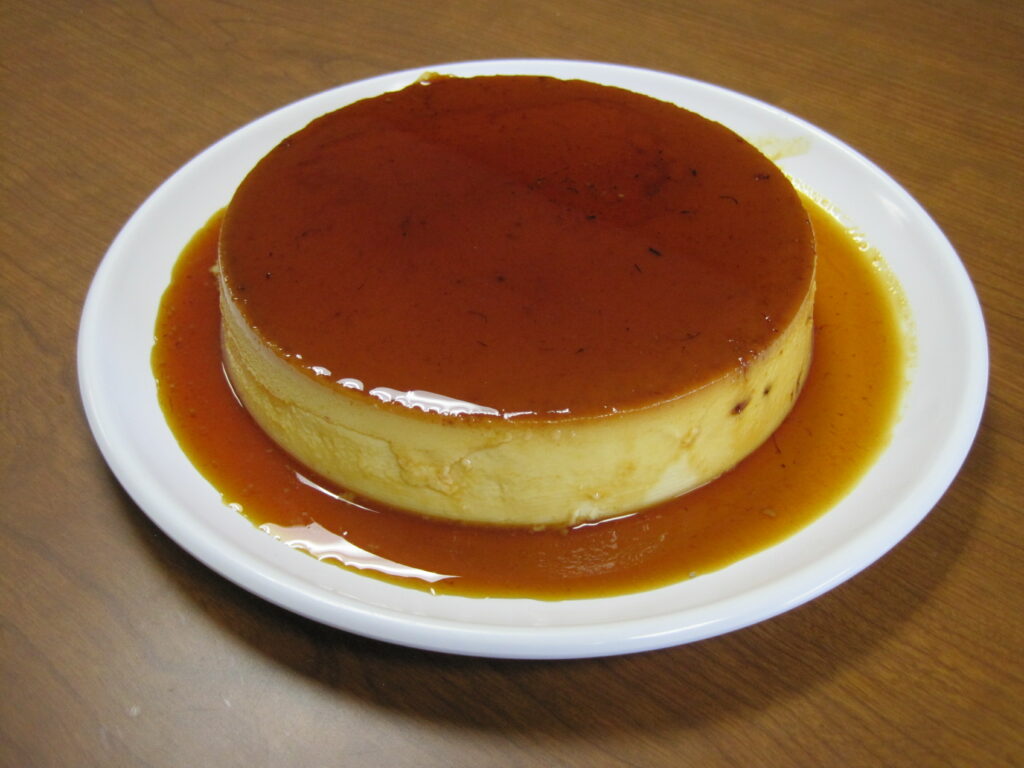 "Anupama made this for Tim's Mexican-themed graduation celebration and send off to Emory University in Atlanta. Along with Donna's Margaritas, it was a big hit! So much so that it keeps being requested. We've had it for Julie's Birthday and Delandy's going away party as well." – April Ferre
Flan
Ingredients
1

Cup

Sugar

5

Eggs

1

14-Ounce

Can Sweetened Condensed Milk

1

12-Ounce

Can Evaporated Milk

1

Tablespoon

Vanilla
Instructions
Preheat oven to 350 degrees.

In a medium saucepan over medium-low heat, melt sugar until liquefied and golden in color. Carefully pour hot syrup into a 9-inch round glass baking dish, turning the dish to evenly coat the bottom and sides. Set aside until completely cool.

In a large bowl, beat eggs. Mix in condensed milk, evaporated milk and vanilla until smooth. Pour egg mixture into baking dish. Cover tightly with aluminum foil.

Bake in hot water-bath in a preheated oven for 60 to 70 minutes maximum. Check if flan is done by inserting a clean knife in the center and if the knife comes out half clean and half watery that's fine since the flan will harden in the fridge when left overnight. It's very important to let flan cool at room temperature for 4 to 5 hours and then place in fridge overnight.

To serve, carefully invert on serving plate after warming the baking dish in a hot water bath.
Notes
1) For first time flan makers: The recipe does not say that the sugar will go from syrupy to hard and rocky looking and that continued cooking and stirring will return it to the liquid caramel state you are striving for. Be patient, it takes almost half an hour. Keep the heat low and keep it moving in the pan.
2) Keep your baking dish warm/hot in the oven while you make the flan, so that when you do pour your caramel (melted sugar) into it, the caramel doesn't harden as quickly.
3) When you pour the custard into the sugared pan, pour it through a sieve to strain the mixture (recommended with all custard type dishes). Bake the flan in a hot-water bath. It's not hard to do, and yields much better results.
4) Last, bake this dish a day ahead of time. Let it sit overnight in the fridge (cover with wrap) before warming the pan's bottom in a warm water bath, then invert to release on a plate. Much of the caramel will have liquefied and will run over the flan.
2010 Recipe – From Allrecipes.com